Red Rocks & Pakleni islands tour
dario
This is our most popular tour that visits all the best spots in the Hvar area
Red Rocks & Pakleni islands tour is the best choice for the most visitors, it is a very relaxing boat, suitable for all age groups, that includes a lot of swimming, sunbathing, and optionally cliff jumping, snorkeling, and relaxing in restaurants and beach bars. We will visit the most beautiful and popular natural attractions and beaches on the South shore of island Hvar.
Meeting point
Private boat tours usually start at 10:00 although it can be a bit earlier or later if you prefer.
Default starting point is our location at Šetalište Put Križa 3 in the town of Hvar (near the statue of the fisherman) but we can pick you up at another location on the Hvar waterfront that is the most convenient for you.
Red Rocks Hvar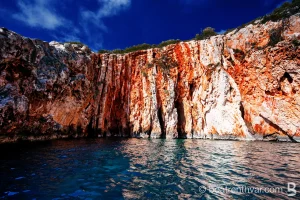 First stop will be the main attraction - Red Rocks. This is a great spot to take some breathtaking photos. You can use the opportunity to swim or climb up and jump from the cliff into the sea. Red Rocks are also ideal for a safe jump into the sea - you can choose height from 2 to 15 meters.
Palmižana
The most popular beach on Pakleni islands, sandy beach Vinogradišće in Palmižana is a great choice for our lunch stop.
You can choose between a few high-quality restaurants (Bacchus, Zori, Totos, Meneghello) and a hugely popular beach bar Laganini that also serves great food.
Palmižana is also a great place for swimming or walking through its botanic garden.
Highlights of Red Rocks & Pakleni islands tour
Mlini beach is one of our favorites on Pakleni islands, located on the island Marinokovac. It is a beautiful beach with crystal clear sea in...
Available boats for Red Rocks & Pakleni islands tour
Depending on the size of your group you can decide on different boats to best match your needs and wishes